Kährs have been manufacturing wood flooring since 1857. Based in Nybro, Sweden, 70% of the wood they use is sourced within 160km of the factory and any production waste is converted into biofuel and used to power over 8,000 homes in and around Nybro.
Kahrs floors are made to withstand the extremely diverse conditions of a typical Scandinavian climate, from harsh minus twenty-degree winters to high humidity summers. Combine that with underfloor heating systems that are typically installed in most Swedish homes and large glass windows and walls to promote daylight indoors, and you have some pretty challenging conditions for a natural wood product. With their years of experience and innovation, Kahrs have produced a floor that can not only withstand those conditions, but can thrive in them. Kährs floors typically come with a 30 year guarantee – in Scandinavian conditions! Put those floors in the moderate climate of the UK and they are pretty untouchable.
So for a smart, green choice and for stunningly beautiful floors built to last, we believe Kährs is the only choice when it comes to wood flooring.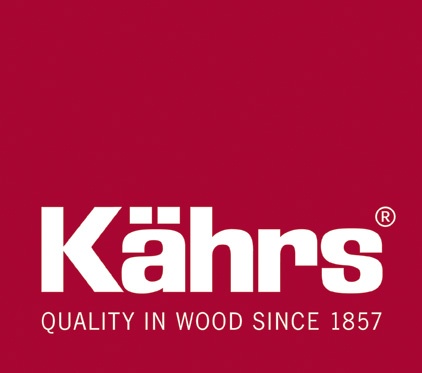 As the national distributor of Kährs flooring for Scotland, we supply the full range of their floors and all the accessories you might need too. We hold over 20,000m2 of Kährs flooring in stock, ready for delivery within 48 hours. And all our staff are trained and knowledgeable on the full Kährs flooring range.
The full range of board thickness from 7mm up to 20mm.

Choose from lacquered (matt or satin), natural oiled, or even the new Ultra Matt range.

Fixed length boards for a seamless and professional finish.

Innovative locking joint for super quick and easy installation and a gap free floor!
All floors come with a manufacturers warranty.

Samples available on request.

Full range of trims, mouldings and accessories to match.

Very competitive prices.
Surface Treatment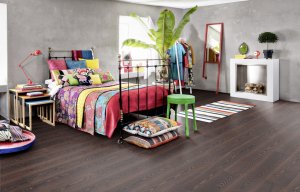 HIGH GLOSS LACQUER
The high gloss lacquer gives a wood floor a shiny, polished look and provides a reflecting surface. It offers an exciting alternative to more conventional wood floors.
SATIN LACQUER
The satin lacquer complements the character of the wood by accentuating its natural structure. It also makes the floor more durable and easier to clean. In addition, the Kahrs lacquer is one of the thinnest available, so it doesn't conceal the woods natural lustre.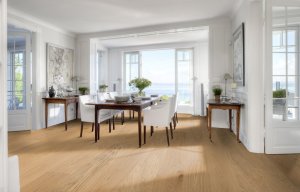 MATT LACQUER
The matt lacquer finish gives the impression of untreated bare boards. The velvety surface is incredibly tactile and pleasing underfoot, yet matt lacquer is as hardwearing and easy to maintain as satin lacquer.
NATURE OIL
The nature oil finishes reinforces the natural look of the floor. It brings out the texture and grain of the wood, and enhances the tone. Floors treated with nature oil are easy to maintain, but they need a little more care than the lacquered floors and should be refreshed every twelve months or so with Kährs Satin Oil.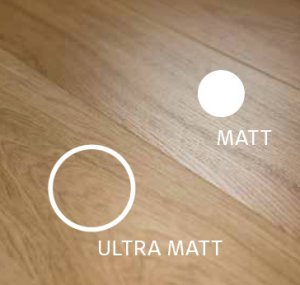 ULTRA MATT LACQUER
The new ultra matt lacquer gives the look and feel of untreated, newly sawn timber. This innovative surface treatment is non-reflective, enhancing the colour of the floor while giving it a silky, yet strong shield against wear and tear.
Grading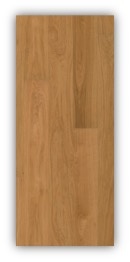 CALM
Minimalistic, clean and calm. The Calm grade floors are produced from Kährs' cleanest boards. They feature planks with a uniform appearance and small variation in grain and tone, they may contain a few small knots.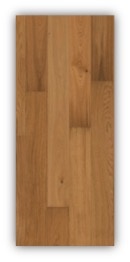 VARIATION
Subtle character with variation. The Variation grade floors are characterized by subtle variation in colour, tone and pattern, they may contain small knots.
LIVELY
Lively and rustic character Lively grade floors feature dramatic graining, gnarls and knots. They boast a greater colour variation and have a more lively and rustic character.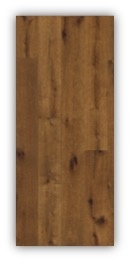 DYNAMIC
Dynamic, warm and rustic character. Dynamic grade floors are made from boards with knots and cracks that give them a lively and dramatic, yet warm character. They feature a broad variety of colour tones.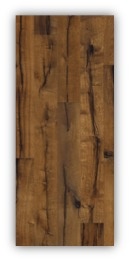 EXPRESSIVE
Bold and expressive statement. Expressive grade floors are made from boards with dramatic cracks and powerful knots which also feature a wide variety of colour tones.
Refining Treatment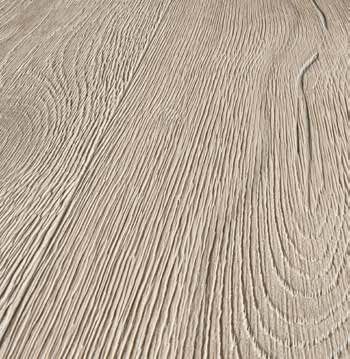 BRUSHED
Brushing the surface highlights the natural structure of the grain and accentuates the texture. Brushing is usually accompanied by other surface treatments, such as bevelled finish and colour stain or glaze.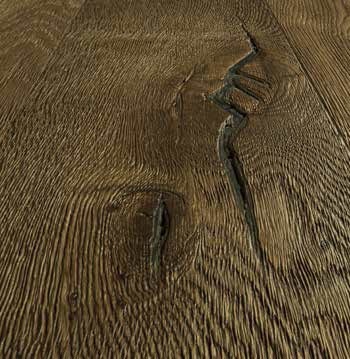 STAINED
Stains are used to further enhance the natural colour tones of the wood – from palest white and whisper greys to shades of rich mocha and charcoal.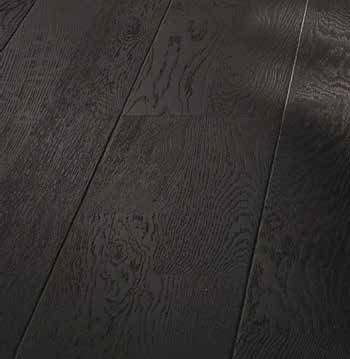 BEVELLED EDGES
Bevelled edges add a touch of drama to a floor. Bevelled styles vary from a mico-bevel (a slight accentuation of the edge using sandpaper) to a more dramatic, stronger bevel. In each style, both long and short edges are bevelled.
Board Design
1-STRIP DESIGN
The surface of a 1-strip board is sawn in one piece. This emphasises the natural beauty and accentuates every detail, from variations in colour and grain, to individual knots.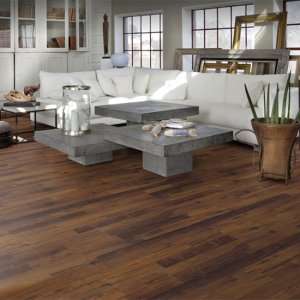 2-STRIP DESIGN
The wear layer of this design is two strips wide. The strips are individually selected and arranged to give the floor its own unique character, which complements all room styles.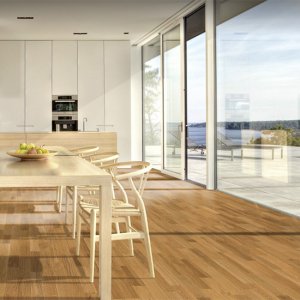 3-STRIP DESIGN
With a wear layer that's 3 strips wide, these floors offer endless decorating opportunities and look particularly stunning in smaller spaces. Creating a linear effect, a 3-strip floor gives the illusion of a larger, more open space.
PATTERNED DESIGNS
Dutch pattern, French Pattern, Chevron and Herringbone. These unique patterned floors combine traditional looks with modern styling and engineering for a professional and original finish.